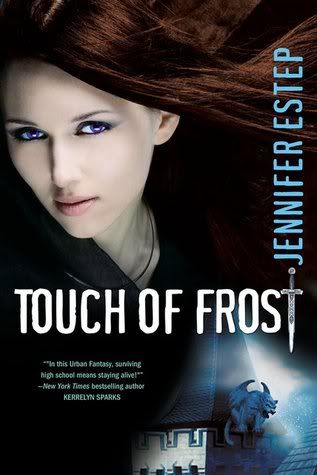 Gwen Frost is entirely unhappy at the Mythos school, a training ground for those whose ancestors were great mythological warriors. Gwen feels out of place as her abilities aren't very warrior like as she can see people's past actions when she touches things they have. When one of the mean girls at the school winds up dead and no one seems to care, Gwen takes it upon herself to investigate. The more she uncovers, the more she finds that there might be a much bigger plot going on that is putting her in danger.
Genre: fantasy, mystery
Rating: 5/5
I ended up finishing this book in a day. It was far better than I thought it was going to be when I picked it up. While it does have a few of the "magical teenager" cliches, it's more Gossip Girl meets Percy Jackson than anything else. Gwen is tough and sassy and eventually makes friends with her own mean girl and a very sexy and untrustworthy Spartan. Interestingly the book leaves you hanging about whether Gwen will eventually get her bad boy Spartan with the heart of gold as he seems to be hiding his own secrets. The book causally mentions sex and alcohol, and while it doesn't dwell on it, it certainly doesn't avoid it either. There are also plenty of pop culture references which probably won't allow the book to age well, but for right now are very timely. I enjoyed it and very much want to read the next one in the series. The characters aren't traditional and the greater mythology seems like it might be interesting.