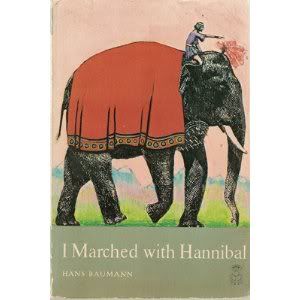 Two children hear the story of Hannibal's attack on Rome from an elderly elephant driver. He tells of Suru, his loyal elephant who was the last elephant survivor of the campaign. He travels with the Carthaginians based on the belief that Rome was responsible for the destruction of his home city, yet while he rides along, he begins to question the blind hatred that both sides have towards each other and whether Hannibal is really the great leader that he thinks he is.
Genre: historical, throwback
Rating: 4/5
Notes: #8 of YA Historical Fiction Challenge
Yet another throw back. This one involves Hannibal's march over the Alps. Historically, this tends to get mentioned as an incredible feat that Hannibal did without any losses. In reality it was incredibly unsuccessful for the elephants and a spectacular waste of men driven by a man who hated Rome as much as Rome hated Carthage. This story doesn't shy away from the ruthless aspects of either empire. And the story mainly concerns itself with the elephants rather than the technical aspect of war. Suru is as much a character as anyone else in the novel and the human drama of surviving takes on a much more important tone than what Hannibal is actually trying to accomplish.
There is a nice parallel between what Hannibal is doing and what he criticizes his enemies for doing. In the end, he's no different from then and he causes just as much destruction, a cycle of hate that eventually ends in Carthage being completely destroyed.