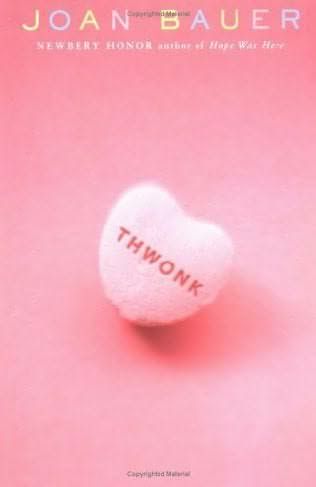 AJ is an aspiring photographer with love issues. She always tends to pick unsuitable boys and Peter is no different as he already has a girlfriend and AJ's friend keeps warning her is completely vain. Then AJ runs into a cupid ready to grant her every wish. Of course AJ wishes for Peter to love her and suddenly he is completely and embarrassingly in love with AJ. Sometimes what you think you want is not necessarily what you need, as AJ begins to learn the hard way.
Genre: humor; contemporary
Rating: 4/5
This was a cute book, short and fairly funny. The actuallity of having a boyfriend who is sickeningly in love with you with no real basis is amusing, yet you feel like AJ gets what she deserves. Everyone warns her that she repeatedly falls head over heels for boys who have no substance, yet she disregards every single person and careens down the path of heartbreak. It's hard to sympathize with her too much when she repeatedly crashes and burns.
The major issue I had with the book is that AJ seemed too young in her flighty mindset to be a senior in high school who had gone through several boyfriends. She seems smart enough, but we're asked to believe that she's literally gone through about 10 guys without pinpointing her problem of being all concerned with looks. AJ is just unbelievably stupid about some things, and that was sort of jarring. The book is funny though and the speaking voices are entertaining and almost Gilmore Girl- like. It's worth overlooking a few character flaws.