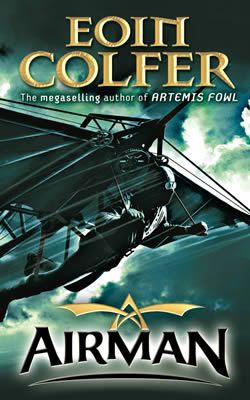 Conor Broekhart was destined to fly. From the time he was little his life was devoted to developing flying machines and science. But suddenly Conor finds himself in a nightmare when he is labeled a traitor, has all who love him believe he's dead and is shipped off to Little Saltee, a mining prison colony with inhuman conditions. Trapped in hell, Conor exists through his dream of flying. Finally getting his chance to escape, he must now save his family and the princess he grew up loving.
Genre: fantasy; steampunk
Rating: 5/5
This was a real adventure novel with more than a touch of the Count of Monte Cristo to it and a truly horrible villain. Conor is intelligent and brave and figures out how to use his intelligence to break himself from his island prison. There's a mob of memorable minor characters from composer Linus Wynter to thug Otto Malarky. Conor's situation is truly horrible and it takes a lot of ingenuity on his part to break from his prison. Of course he's truly changed when he escapes, as he has no interest in bringing down Bonvilain so much as stealing diamonds and building a new life and has to be coaxed into finally becoming a hero.
This is an excellent adventure for reluctant male readers, as the romance is limited and most of the book focuses on the Monte Cristo-esque plot of a man wronged escaping and turning the tables on his captors. Not a typical steampunk as this is more driven by characters and plot than gadgets.