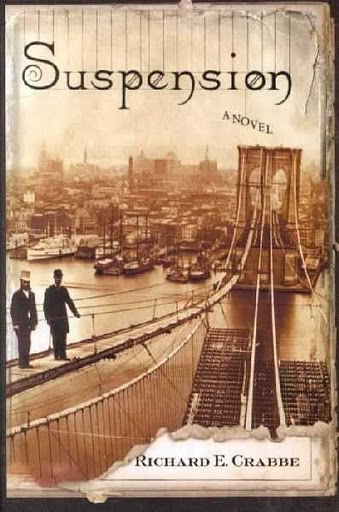 Suspension- May 31, 1883, 3:55 p.m. Twenty thousand men, women, and children, their
faces shining in the late afternoon sun, are strolling the Eighth
Wonder of the World. The Brooklyn Bridge is open just a week, its
promenade a magnet for the teeming masses of New York and Brooklyn. An
engineering marvel of transcending beauty, the bridge is simply
breathtaking.In precisely five minutes, it will fall.Seven
desperate men, former Confederate soldiers turned saboteurs, have
labored for years to destroy the bridge, which they saw as a symbol of
hated Yankee supremacy.Sergeant Detective Tom Braddock is one
step behind the conspirators. Working through a series of murderous
dead-ends, Braddock has dogged the seven men from the cables of the
bridge to the shadowy alleys of the Lower East Side and the back streets
of Richmond, Virginia. Slowly, he has slowly drawn closer to the
unthinkable truth, a truth that none can accept...
The Singer of All Songs- Calwyn has never been beyond the high ice-wall that guards the sisters
of Antaris from the world of Tremaris. She knows only the rounds of her
life as a novice ice priestess, tending her bees, singing her ice
chantments, and dreaming. But then Calwyn befriends Darrow, a
mysterious Outlander who appears inside the Wall and warns of an
approaching danger. To help Darrow, to see the world, and perhaps to
save it, Calwyn will leave the safety of the Wall for a journey with a
man she barely knows--and an adventure as beautiful and dangerous as the
music of chantment itself.
A Banquet for Hungry Ghosts- According to Chinese tradition, those who die hungry or unjustly come back to haunt the living. Some are appeased with food. But not all
ghosts are successfully mollified. In this chilling collection of
stories,Ying Chang Compestine takes readers on a journey through time
and across different parts of China. From the building of the GreatWall
in 200 BCE to themodern day of iPods, hungry ghosts continue to torment
those who wronged them.
Odds are Good- Beloved for his hilarious and unexpectedly moving novels, Bruce Coville
is also a master of the short story. These two collections, in one
volume for the first time, feature eighteen tales of unusual breadth and
emotional depth. This omnibus is a perfect introduction to Bruce
Coville's magic for the uninitiated.
Oddest of All- Fans of Bruce Coville's wonderfully weird storytelling will be thrilled
to know that the expert of odd is back with a new collection of nine
curious and thought-provoking tales. From stories about a girl
who learns the horrifying secrets about what's really at the
bottom of a murky, desolate pond, a strange chemical factory causing
mutations in frogs, and a Halloween mask that becomes a gruesome clue in
the disappearance of a child, the odd adventures in this new
collection are filled with terrifying and ghoulish details. In the
eerie, surreal tradition of Edgar Allan Poe, these reveries are sure
to linger in the minds of readers.