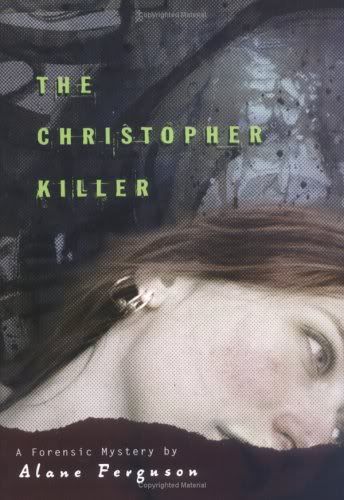 Cameryn is the daughter of the town coroner and is keen on following in her father's footsteps. Unfortunately on her second time out with her father the body they find is that of someone Cameryn knows. She's the latest victim of a serial killer who leaves Christopher medals on his victims. Cammie is determined to find the killer of her friend, but added to the case itself is the fact that her mother has entered back into her life through the connection to Justin, a deputy who Cammie may have developing feelings for. She has to use her scientific knowledge to try to solve the case before she becomes the next victim.
Genre: mystery
Rating: 4/5
A pretty smart forensic mystery for teenagers, Ferguson doesn't shy away from the nastiness of death, yet speaks of it in a clinical way that gets the point across. Cameryn is a feisty girl, but I do find it a bit hard to believe that she'd be allowed to help her father as much as she does. There's also the issue that he's smarter than everyone around her, which is also a bit unbelievable. Also slightly odd is her relationship with deputy Justin, who we find is 21, so not out of the realm of attraction for a 17 year old, but still the fact that he has an official job being so young is unbelievable and slightly jarring in the read.
I liked the book though, on the forensic level. It was the first mystery for teens that I'd read that had the Kathy Reiches feel to it. That's a hard thing to do with a YA protagonist, but Ferguson works it as best as she can.