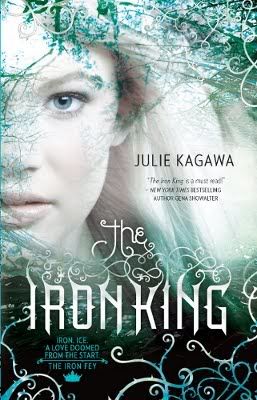 Meghan Chase has a secret destiny—one she could never have imagined…

Something has always felt slightly off in Meghan's life, ever since her father disappeared before her eyes when she was six. She has never quite fit in at school…or at home.

When a dark stranger begins watching her from afar, and her prankster best friend becomes strangely protective of her, Meghan senses that everything she's known is about to change.

But she could never have guessed the truth—that she is the daughter of a mythical faery king and is a pawn in a deadly war. Now Meghan will learn just how far she'll go to save someone she cares about, to stop a mysterious evil no faery creature dare face…and to find love with a young prince who might rather see her dead than let her touch his icy heart.
Genre: fantasy
Rating: 4.5/5
Note: #5 for the YA Series Challenge (The Iron Fey Series)
First off, this "faery" series probably has the best world building of any that I've read. It started a bit weak but got progressively better. Meghan is originally a bit dense, but shapes up better later on. I also originally didn't like either of her options for romance, and Ash suddenly went from slightly sociopathic to suddenly being all self sacrificial. I fail to think the love of a good woman changed him that much, but it wasn't as glaringly annoying as some forced love interests.
The best part were some of the minor characters. Grimalkin, the cait sith, was easily the most interesting character with his fluid alliances and sarcasm. The pack rats were also extremely charming and I hope they show up again. The climax was rather rushed. It felt like the book was building up to something that was resolved in one chapter. That being said, this series was much better written than most falling into the craze for faeries lately. This series will probably be liked more by teenagers than most others just because of the better writing. Excellent start to a series.