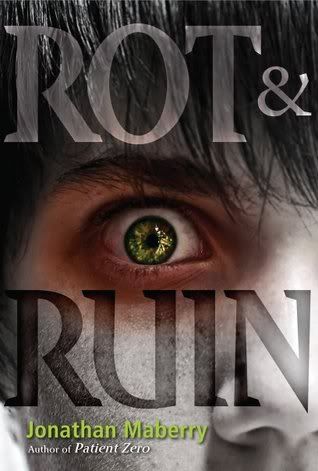 Rot & Ruin
- In the zombie-infested, post-apocalyptic America where Benny Imura lives, every teenager must find a job by the time they turn fifteen or get their rations cut in half. Benny doesn't want to apprentice as a zombie hunter with his boring older brother Tom, but he has no choice. He expects a tedious job whacking zoms for cash, but what he gets is a vocation that will teach him what it means to be human.
Blood Red Road
- Saba has spent her whole life in Silverlake, a dried-up wasteland ravaged by constant sandstorms. The Wrecker civilization has long been destroyed, leaving only landfills for Saba and her family to scavenge from. That's fine by her, as long as her beloved twin brother, Lugh, is around. But when a monster sandstorm arrives bearing four cloaked horsemen, Saba's world is shattered. Lugh is captured, and Saba embarks on a quest to get him back.
Suddenly thrown into the lawless, ugly reality of the world outside of desolate Silverlake, Saba discovers she is a fierce fighter, an unbeatable survivor, and a cunning opponent—and she has the power to take down a corrupt society from the inside. Teamed up with a handsome daredevil named Jack and a gang of girl revolutionaries called the Free Hawks, Saba stages a showdown that will change the course of her own civilization.
Ashes
- An electromagnetic pulse flashes across the sky, destroying every electronic device, wiping out every computerized system, and killing billions.
Alex hiked into the woods to say good-bye to her dead parents and her personal demons. Now desperate to find out what happened after the pulse crushes her to the ground, Alex meets up with Tom—a young soldier—and Ellie, a girl whose grandfather was killed by the EMP.
For this improvised family and the others who are spared, it's now a question of who can be trusted and who is no longer human.
Gardens of the Moon
- The Malazan Empire simmers with discontent, bled dry by interminable warfare, bitter infighting and bloody confrontations with ancient and implacable sorcerers. Even the imperial legions, long inured to the bloodshed, yearn for some respite. Yet Empress Laseen's rule remains absolute, enforced by her dread Claw assassins.
For Sergeant Whiskeyjack and his squad of Bridgeburners, and for Tattersail, their lone surviving mage, the aftermath of the siege of Pale should have been a time to mourn the many dead. But Darujhistan, last of the Free Cities, yet holds out. It is to this ancient citadel that Laseen turns her predatory gaze.

However, the Empire is not alone in this great game. Sinister, shadowbound forces are gathering as the gods themselves prepare to play their hand . . .
The Age of Ra
- An alternate history of the world where the Egyptian gods have defeated all others and have carved up the planet between themselves. Only a band of Freedom Fighters and their enigmatic leader can free the Earth from their divine tyranny.
The Age of Odin
- Gideon Dixon was a good solider but bad at everything else. Now the British Army doesn't want him any more. So when he hears about the Valhalla Project it seems like a dream come true. They're recruiting from service personnel for execellent pay with no questions asked to take part in unspecified combat operations. The last thing Gideon expects is to finding himself fighting alongside the gods of the ancient Norse pantheon. The world is in the grip of one of the worst winters it has ever known, and Ragnarok-the fabled final conflict of the Sagas-is looming.
Best Served Cold
- War may be hell, but for Monza Murcatto, a solider of considerable fortune; it's a damn good way of making money too. Her victories have made her popular - a shade too popular for her employer's taste. Betrayed and left for dead, Murcatto's reward is a broken body and a burning hunger for vengeance.
Whatever the cost, seven men must die.
This Dark Endeavor
- Victor and Konrad are the twin brothers Frankenstein. They are nearly inseparable. Growing up, their lives are filled with imaginary adventures...until the day their adventures turn all too real.
They stumble upon The Dark Library, and secret books of alchemy and ancient remedies are discovered. Father forbids that they ever enter the room again, but this only peaks Victor's curiosity more. When Konrad falls gravely ill, Victor is not be satisfied with the various doctors his parents have called in to help. He is drawn back to The Dark Library where he uncovers an ancient formula for the Elixir of Life. Elizabeth, Henry, and Victor immediately set out to find assistance in a man who was once known for his alchemical works to help create the formula.
Determination and the unthinkable outcome of losing his brother spur Victor on in the quest for the three ingredients that will save Konrads life. After scaling the highest trees in the Strumwald, diving into the deepest lake caves, and sacrificing one's own body part, the three fearless friends risk their lives to save another.